I've been lucky to find wonderful stitching friends. In this feature, read about what inspires them when it comes to embroidery.
Today, we meet my friend Carolyn. We met in a Home Ec class on embroidered embellishments, and have stayed in touch ever since!
Q: How old were you when you learned to embroider? Who taught you?
A: I was around 14-15 when I learned to embroider. My mom taught me.
Q: Why are you drawn to embroidery as a craft?
A: I am drawn to embroidery because, for me, it is very relaxing, portable, in-expensive, and the possibilities for design are endless.
Q: What are your favorite and least favorite stitches?
A: Favorites: back stitch, seed stitch, split stitch. Least favorite: none.
Q: What is your favorite thread and fabric?
A: I primarily use DMC 6 stranded floss. I also love Kreinik metallic floss.
Q:

What types of

projects do you like to work on?
A: When choosing a project to work on, I am drawn to images that make my heart go, "Aaaaaah! I HAVE to stitch that." Follow your bliss! If the pattern/picture/image doesn't make my heart sing, I won't bother with it.
Q: Where do you find inspiration?
A: I use Google and Pinterest a lot. I just found two Winter (not Christmas) patterns (via Pinterest) that I am going to start on this weekend.
Q: Are there any types of embroidery or skills that you would like to learn in the future?
A: I am toying with re-learning crochet and using crochet with embroidery.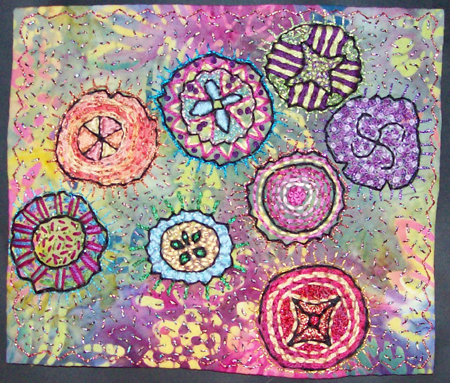 Embroidered by Carolyn
To see more of Carolyn's work, visit her website!